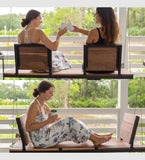 Wooden Bedside Table ( Edelweiss Collection )
Shipping: India—Wide
Wooden Console Table - ( Edelweiss Collection )
Oh! Damn, It looks amazing!
Words kind of fail to express the stature of Edelweiss collection. This 3 drawer bedside table is a part of our most coveted collection Edelweiss. Crafted in solid mango wood by matured craftsmen. Premium polishing with lime-washed effect and hand-waxed finish.
Dimension (in cm):
50 W x 40 D x 70 H cm.
Color :
Natural
Material : 
Mango Wood
Primary Room : 
Bedroom
Secondary Room : 
 - 
Item
Bedside
Top Material :
 Solid Wood
Assembly Required: 
No

Delivery Time : 

Furniture category items are delivered in 25 - 45 days unless mentioned ready to ship.

Ready to ships items ship in 4-5 days

Cancellation :

Furniture category items can be canceled within 36 Hrs. After 36 hours order can`t be canceled.